Black-owned Detroit restaurants you should have tried by now
We have four words for you: SUPPORT BLACK-OWNED BUSINESSES. We're not sorry for yelling because those of us who live here know that Detroit has a rich history of food and drink, and Black-owned bars, restaurants, and other businesses have played an integral role in our cultural economy and dining scene. While we know we're only giving a small glimpse of the popular spots around town, we hope this slideshow offers some ideas of places — old and new — to support ASAP.
Posted Jun. 4, 2020 & filed under Food.
https://photos.metrotimes.com/black-owned-detroit-restaurants/?slide=1&dvs




Detroit Vegan Soul

8029 Agnes St., Detroit; 313-649-2759, 19614 Grand River Ave., Detroit; 313-766-5728; detroitvegansoul.com
Having a desire to make healthy food more accessible, Detroit Vegan Soul's mission is to help people live healthier lives by offering a menu full of great tasting and nutritious vegan food.
Photo via Detroit Vegan Soul/Facebook




Good Cakes and Bakes

19363 Livernois Ave., Detroit; 313-468-9915; goodcakesandbakes.com
Owned by April Anderson and Michelle Anderson, this Livernois Avenue organic bakery has been in the spotlight since it opened — and we know why. Look no further than Good Cakes' lemon gooey butter cake, strawberry crunch cake, and 7-Up pound as well as a mouth-watering selection of cupcakes and cookies. Vegan? They've got you covered with whole cakes in red velvet, double chocolate, carrot, and lemon pound cake varieties.

Photo via Good Cakes and Bakes/Facebook



Kuzzo's Chicken & Waffles

19345 Livernois, Ave, Detroit; 313-861-0229; kuzzoschickenandwaffles.com
Founded by former NFL player Ron Bartell, this chicken and waffle eatery serves food that will provide all the comfort your soul needs. After closing in 2019 for kitchen renovations, the Avenue of Fashion mainstay reopened this year better than ever.

Photo via Kuzzo's Chicken & Waffles/Facebook


Bert's Market Place

2727 Russell St., Detroit; 313-567-2030; bertsentertainmentcomplex.com
If you haven't been to Bert's Saturday morning barbecue cookout, you're missing out. The slabs of ribs and smoked sausage are cooked on a massive outdoor charcoal grill, filling Eastern Market with mouthwatering smells. Plus, they have karaoke.

Photo via Bert's Marketplace/Facebook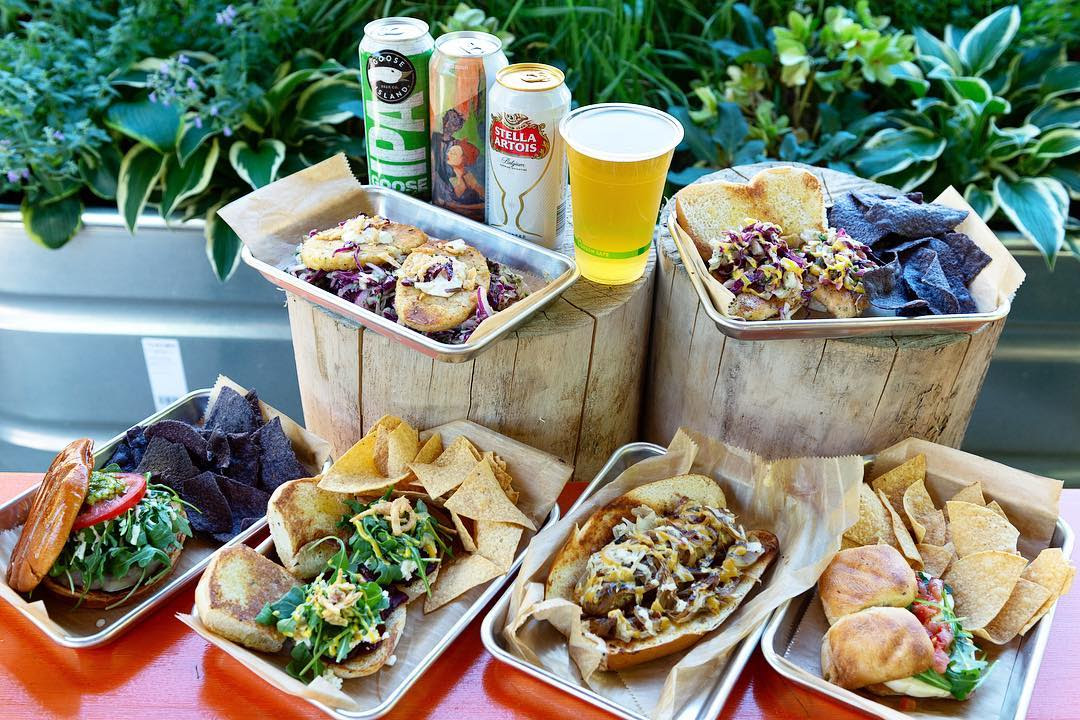 Central Kitchen and Bar

660 Woodward Ave. #4a, Detroit; 313-963-9000; centraldetroit.com
Co-owned by Dennis Archer Jr., Central Kitchen and Bar offers unique takes on classic dishes like burgers and salads.

Photo via Central Kitchen and Bar/Facebook



Sweet Soul Bistro

13741 W. McNichols, Detroit; 313-862-7685
This westside bar and restaurant is located at McNichols and Schaefer Highway. The bistro takes bar food and the legacy of Motown and weaves them into a menu that's full of mouthwatering dishes.

Photo via Sweet Soul Bistro/Facebook


Chef Greg's Soul 'N' The Wall

10009 Curtis St., Detroit; 313-861-0331; facebook.com/Chef-Gregs-Soul-N-The-Wall
In 2007, Greg Beard opened Greg's Soul "N" The Wall in the tiny brick storefront that used to house Brothers on Curtis near Wyoming Road. Since then, the soul food favorite has revived the Boogaloo Sandwich, a more sophisticated cousin to the Sloppy Joe, that was created in Detroit in the 1960s.

Photo by Tom Perkins


Parks Old Style Bar-B-Q

7444 Beaubien St., Detroit; 313-873-7444; parksoldstylebar-b-q.com
Remember that Buster Poindexter song from the '90s, "Hot Hot Hot"? No? Uh, OK, anyway the song embodies the "North End Detroit" heat of Parks Old Style Bar-B-Q which means cayenne-powder dusted chicken that is, well, hot, hot, hot. Opened in 1964, they now go through 2,500-3,000 of ribs each week because, yeah, it's that friggin' good.

Photo via Parks Old Style Bar-B-Q/Facebook


House of Pure Vin

1443 Woodward Ave., Detroit; 313-638-2501; houseofpurevin.com
Looking to indulge with a fancy bottle of something that will take all your worries away? Founders Regina Gaines, Terry Mullins, and Andrea Dunbar opened this trendy wine hub in the heart of downtown Detroit in 2015.

Photo via House of Pure Vin/Facebook


Le Culture Cafe

1428 Gratiot Ave., Detroit; 313-285-8137; leculturecafe.com
Native Detroit chef Drew Matthews wanted upscale soul food in the city and, behold, Le Culture Cafe was born. Lamb chops, po' boys, and a five-cheese mac 'n' cheese topped with lobster claws, tails, and jumbo crab are just the tip of the cafe's delicious iceberg.

Photo via Le Culture Cafe/ Facebook



The Block

3919 Woodward Ave., Detroit; 313-832-0892; theblockdet.com
This establishment, owned by Michael Byrd, is a contemporary restaurant and bar combo. The menu consists of burgers, chicken wings, and other elevated pub favorites.

Photo via The Block Detroit/Facebook



Detroit Soul

2900 Eight Mile Rd., Detroit; 313-366-5600; detroitsoul.net
Detroit Soul, owned and run by Sam Van Buren and Jerome Brown and their wives, makes classic soul food with a health-focused twist. Buren and Brown, both of whom are descendants of parents and grandparents who relocated to the North from Selma, Alabama, during the Great Migration, have reimagined family recipes for greens, fried chicken, smothered pork chops, and catfish.

Photo via Detroit Soul / Facebook


Ivy's Kitchen & Cocktails

9215 E. Jefferson Ave., Detroit; 313-332-0607; ivykc.com
Opened by Nya Marshall on the city's east side in 2019, Ivy's Kitchen & Cocktail offers casual yet high-end American fare, like squid ink pasta, charred branzino, and short rib stroganoff, with burgers and chicken sandwiches, too.

Photo via Ivy's Kitchen & Cocktail/Facebook



Dime Store

719 Griswold St., Suite 180, Detroit; 313-962-9106; eatdimestore.com
Jeff Alexander, Larry Kahn, and Ann-Marie Murphy preside over this Chrysler House eatery. Look no further for a prime brunch destination, complete with made-from-scratch breakfasts.

Photo viaDime Store Facebook


COOP

474 Peterboro St., Detroit; coopdetroit.com
Chef Maxcel Hardy expanded from his deservedly popular River Bistro in Rosedale Park to a stall at Midtown's Detroit Shipping Co. food hall. Whereas the emphasis at the Bistro is on soul food, Coop's inspiration is a Caribbean food truck. Familiar island favorites jerk chicken, rum cake, and ginger beer do make room, though, for Southern fare like mac and cheese and Brussels sprouts with bacon.

Photo via COOP Detroit / Facebook


Vicki's BBQ

3845 W. Warren Ave., Detroit; 313-894-9906
Vicki's is one of Detroit's barbecue old-timers that's up at the top of the list in any conversation on our barbecue heavyweights. That partly owes to the St. Louis-style cut ribs that Vicki's cooks over an open pit (though you can also get them smoked). But the highlight in what's basically a highlight reel meal is the vinegar and tomato-based sauce.

Photo via Tom Perkins


Yum Village

6500 Woodward Ave., Detroit; 313-334-6099; yumvillage.com
Yum Village in Detroit's north end is full of Caribbean and West African dishes like jerk chicken, maafe, jollof rice, suya fried chicken, smoked pepper fries, and several vegetarian options.

Photo via Yum Village / Facebook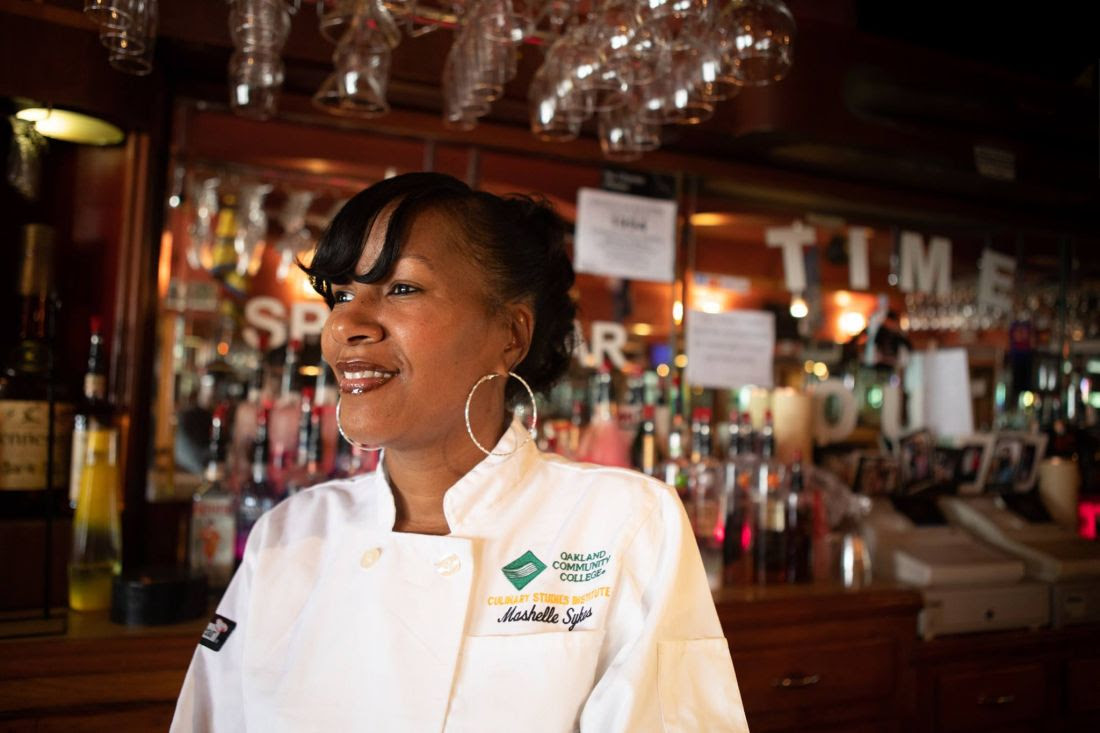 Fusion Flare Kitchen and Cocktails

16801 Plymouth Rd., Detroit; 313-653-3700; fusionflare.net
When owner-chef Maashelle Sykes opened her new American and soul food eatery in 2019, it marked the first full-service restaurant to open in Detroit's west side Joy community in nearly 20 years. Their menu includes plates like fried catfish with a remoulade sauce, grilled pork chops, and buttermilk fried chicken, and different preparations of shrimp, as well as vegan options.

Photo via Fusion Flare Kitchen and Cocktails/Facebook



Jamaican Pot

3031 W Grand Blvd, Detroit,, Detroit; 313-659-6033; thejamaicanpot.com
Jamaican Pot has a new location in the New Center One building in Detroit's New Center neighborhood. The menu is similar to that at its small carryout spot on Eight Mile Road near Greenfield, with offerings like jerk chicken, barbecue jerk, pepper steak, oxtail, and curried goat. And, of course, it offers what is perhaps the best dish Mama Rose makes, fricassee chicken with veggies in a brown gravy flavored by garlic, onion, scallion, and thyme.

Photo via The Jamaican Pot catering service and take out restaurant / Facebook




Sloppy Chops

13226 W. McNichols Rd., Detroit; 313-646-2900; sloppychopsrestaurant.net
If you aren't afraid of a little mess in the name of good food, then try Six Mile's newest addition, Sloppy Chops, helmed by chef Al El. This casual fine dining establishment serves up signature entrees, like lobster tacos, lamb chops, as well as handcrafted cocktails.

Photo via Sloppy Chops Restaurant/Facebook


Ima

2015 Michigan Ave. and 4870 Cass Ave., Detroit, and 32203 John R. Rd., Madison Heights; imanoodles.com
Located Corktown, with newer outposts in Midtown and Madison Heights, this Japanese eatery is run by chef-owner Mike Ransom. Filling menu items are created with a base of either rice or udon noodles and they're freaking delicious. Try the Midtown location's spicy karaage chicken sandwich.

Photo by Tom Perkins




Motown Bistro

2735 Russell St., Detroit; facebook.com/themotownbistrodetroit
Located in Eastern Market, Motown Bistro & Oyster Bar focuses on seafood including lobster mac and cheese, lobster bites, blue crab potato skins, and more than 150 rare scotches and bourbons.

Photo via Motown Bistro/Facebook


Le Petit Dejeuner

6470 East Jefferson Ave., Detroit; 313-725-0257; facebook.com/lepetitbreakfast
Le Petit Dejeuner describes itself as a family dining breakfast restaurant. Dishes are meant to be shared amongst family and friends. Serving waffles, pancakes, crepes, and other delicious breakfast foods, sharing with your family is easier said than done.

Photo via Le Petit/Facebook



The Kitchen by Cooking with Que

6529 Woodward Ave., Detroit; 313-462-4184; thekitchenbycwq
This space at 6529 Woodward serves as a culinary classroom of sorts where vegans and meat lovers can hone their culinary skills; a place for businesses and individuals to rent a shared commercial kitchen; and a place where visitors can rent private dining space.

Photo via The Kitchen by Cooking with Que / Facebook



Baker's Keyboard Lounge

20510 Livernois; 313-345-6300;theofficialbakerskeyboardlounge.com
Believed to be he world's oldest continuing-operated jazz club, this legendary spot is owned by Eric Whitaker and business partner Hugh W. Smith III. Some of the musicians who have played the club include: Ella Fitzgerald, Miles Davis, Oscar Peterson, George Shearing, and Nat "King" Cole, to name a few.

Photo by Tom Perkins


SavannahBlue

1431 Times Sq., Detroit; 313-926-0873; savannahbluedetroit.com
Contemporary northern soul food eatery is getting in on the fine-dining curbside action. SavannahBlue is the place to snag sides of collard greens, maple glazed yams, and crab cakes to pair with blackened shrimp farro jambalaya, braised oxtail, southern fried catfish, or St. Louis barbecue ribs.

Photo via SavannahBlue/Facebook


Cafe D'Mongo's Speakeasy

1439 Griswold St., Detroit; 313-961-0000
Founded by Larry Mongo in 2007, this Friday and Saturday-only bar and restaurant has served as the backdrop for locally produced movies and has been featured on the Travel Channel's Bizarre Foods with Andrew Zimmern. It's also regularly frequented by celebrities and local talent.

Photo via Cafe D'Mongos/Facebook


Table No. 2 - Closed 6-5-20

18925 Livernois Ave., Detroit; 313-340-9550; tablenumber2.com
Executive chef and owner Omar Mitchell opened his white linen American restaurant along Detroit's Avenue of Fashion last year. Menu highlights include fried cauliflower, calamari, Caribbean Jamaican jerk chicken satay, crab cakes, candied bacon, lobster mac, smoked beef short rib, crisp skin salmon, vegan mushroom risotto, and more.

Photo via Table No. 2/Facebook



Narrow Way Cafe

19331 Livernois Ave., Detroit; 313-397-7727;thenarrowwaycafe.com
Skip Starbucks and head to the Avenue of Fashion, where you can find Narrow Way Cafe. The coffee shop brews Zingerman's beans and bakes Avalon baked goods. Its freshly renovated, sharp interior — complete with hardwood floors, industrial lights, and exposed ductwork — includes a garage door that can swing open on nice days to provide an open-air feel.

Photo via Narrow Way Cafe/Facebook


Flood's Bar & Grille

731 St. Antoine St., Detroit; 313-963-1090; floodsdetroit.com
Family-owned and operated soul food spot Flood's Bar & Grille is a Detroit institution. Located in a beautiful historic building near Greektown, Flood's has been serving up classic soul food since 1987.

Photo via Flood's Bar & Grille/Facebook


Sweet Potato Sensations>

17337 Lahser Rd, Detroit; 313-532-7996; sweetpotatosensations.com
Cassandra and Jeffrey Thomas have been preparing all manner of sweet potato treats for almost three decades. Although pie is what they're best known for, the bakery specializes in other confectionary goodies such as; cheesecake, cake, cookies, and more.

Photo via Sweet Potato Sensations/Facebook


Motor City Soul Food

12700 W Seven Mile Rd.; 313-472-5885; officialmotorcitysoulfood.com
Motor City Soul Food has two locations, one located in Oak Park and the other in Detroit. They have all of the best fixings — neckbones, fried chicken, meatloaf, catfish, potato salad, peach cobbler, you name it. Their macaroni and cheese is a must-have alongside some fried chicken.

Photo via Motor City Soul Food/Facebook


Maty's Senegalese Restaurant

21611 Grand River Ave., Detroit; 313-472-5885; facebook.com/matys-restaurant
Maty's is Detroit's first and only Senegalese restaurant and every visit promises to deliver a deeply flavorful dish. If you're lost, the first dish to try is the fish, which they cook whole with ingredients like mustard powder, onion, pepper, and vinegar with a few twists.

Photo by Tom Perkins

XXXXXXXXXXXXXXXXXXXXXXXXXXXXXXXXXXXXXXXXXXXXXXXXXXXX

From Facebook: