https://www.modeldmedia.com/features/BuildSmallBusiness.aspx
https://www.buildinstitute.org/

From tree-cutting to vegan desserts, Build Institute graduates enrich Detroit's business landscape
This is part of a reporting series, supported by Build Institute, that chronicles BIPOC-led businesses and entrepreneurship in Detroit. 
Micro-entrepreneurs and micro-businesses are the heartbeat that allows a local economy to thrive. But the ability to be able to enhance a community financially, while sustaining a family-like bond with residents, takes a special talent. That is what small business owners who graduated from Build Institute pride themselves on. 
Build Institute, which is located in The Corner, in Corktown, helps turn business ideas into reality by providing micro-entrepreneurs with the necessary tools, resources, and support network in Detroit. Over 2500 aspiring entrepreneurs have graduated from Build Institute since it opened in 2012. This allows Build Institute to leave an impact on Detroit business owners who in turn create community impact and enrichment in the city.
Entrepreneurs in Residence (EIRs),
 like Janae Griggs, are entrepreneurs in the community who provide free one-on-one coaching sessions for other local entrepreneurs and serve them with expertise only a seasoned business owner could have. Griggs, a Build Institute alumni and a serial entrepreneur is knowledgeable in developing business strategies and solutions, business planning, project management, and branding. From starting a non-profit company called 
P.I.N.K Detroit
 in 2012, to launching her own 
virtual assistance agency
, she has connected and served many people in all different stages of their entrepreneurial careers.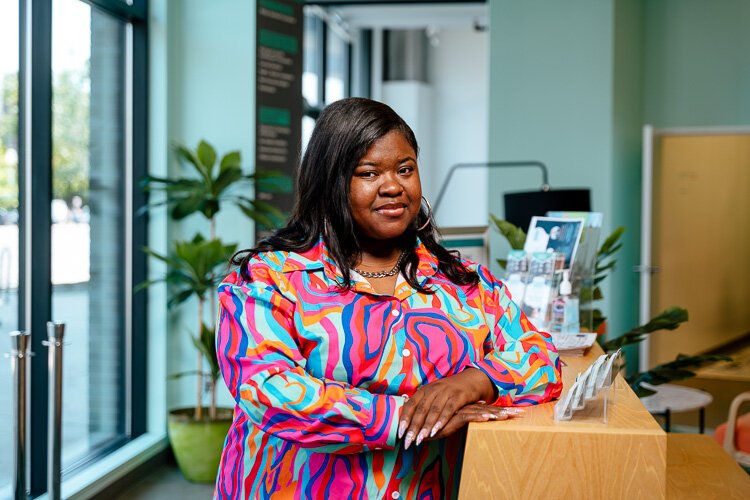 Janae Griggs is an Entrepreneur in Residence at Build Institute. Photo: Nick Hagen.
"I decided to start up a non-profit because I really just wanted to provide a service," says Griggs. "With a profitable business, yes it's great to earn money but I feel better knowing that a person leaves with more knowledge and initiative to start their dream business."
During her office hours at Build Institute, Griggs reassures creatives that no idea is a bad idea and the idea doesn't have to be perfect. "When I start my sessions, I let people know that anything is possible as long as you have someone to bounce your ideas off of. If you're only utilizing Google and YouTube it'll still be hard to get your business running because you're trying to build and perfect it on your own. Business is about creating connections and relationships and the more there are of those, the better the outcome and growth of your business."
Across the small business landscape, the institute's impact continues after participants graduate. Model D sits down with three who are making their mark in Detroit and beyond.