https://www.metrotimes.com/detroit/20-black-owned-art-galleries-and-spaces-to-explore-in-detroit/Slideshow/32452190   
20 Black-owned art galleries and spaces to explore in Detroit 
By Randiah Camille Green
Black art is an integral part of Detroit's culture. Whether you're looking for a Black-owned gallery, event space, or place to meet like-minded artists and collectors, you've come to the right place.



Google Maps
Irwin House Gallery
2351 W. Grand Blvd., Detroit, 313-932-7690; irwinhousegallery.org
This gallery has transformed a Detroit home into an art space. Irwin House focuses mainly on highlighting emerging artists and is notably the place where Jonathan Harris's "Critical Race Theory" painting found viral success. Hours are by appointment except for special events and exhibit openings.



Google Maps
Armageddon Beachparty Lounge
​​1517 Putnam St., Detroit; 313-704-4407; armageddonbeachpartydetroit.com
Step into the minds of husband and wife artist duo Kozma and Motu (Elena Noelle Smyth and Aubrey M Smyth) at Armageddon Beach Party in Midtown. The brick-and-mortar functions as a shop for the couple's prints, original pieces, and clothing as well as an event space for poetry, music, burlesque, and whatever else they feel like. It's a whole vibe filled with their colorful psychedelic pop art.



Live Coal Gallery/Facebook
Live Coal Gallery
80 Clairmount Ave., Detroit; 313-900-8392; livecoal.org
Exhibits at Live Coal Gallery feature a range of work from photography and painting to quilting. It's one of several art initiatives by Detroit artist Yvette Rock who also runs a children's art museum called The RED, and traveling gallery and workshop Live Coal Arts Mobile. Hours are by appointment only.



-Google Maps
Harper Galleries of Art & Interiors
173 E. Grand Blvd., Detroit; 313-974-7150; harpergalleries.net
A block away from the bridge to Belle Isle, Harper Galleries hosts frequent solo exhibitions of local artists. It also boasts a swanky selection of furniture ranging from mid-century art deco furnishings to 18th century mahogany bookcases.



Google Maps
Sherwood Forest Art Gallery
19500 Livernois Ave.; 313-340-0411; sherwoodforestart.com
Sherwood Forest Art Gallery is another Avenue of Fashion highlight. This family-owned gallery and shop carries a huge collection of paintings, masks, sculptures, prints, and more from the African diaspora.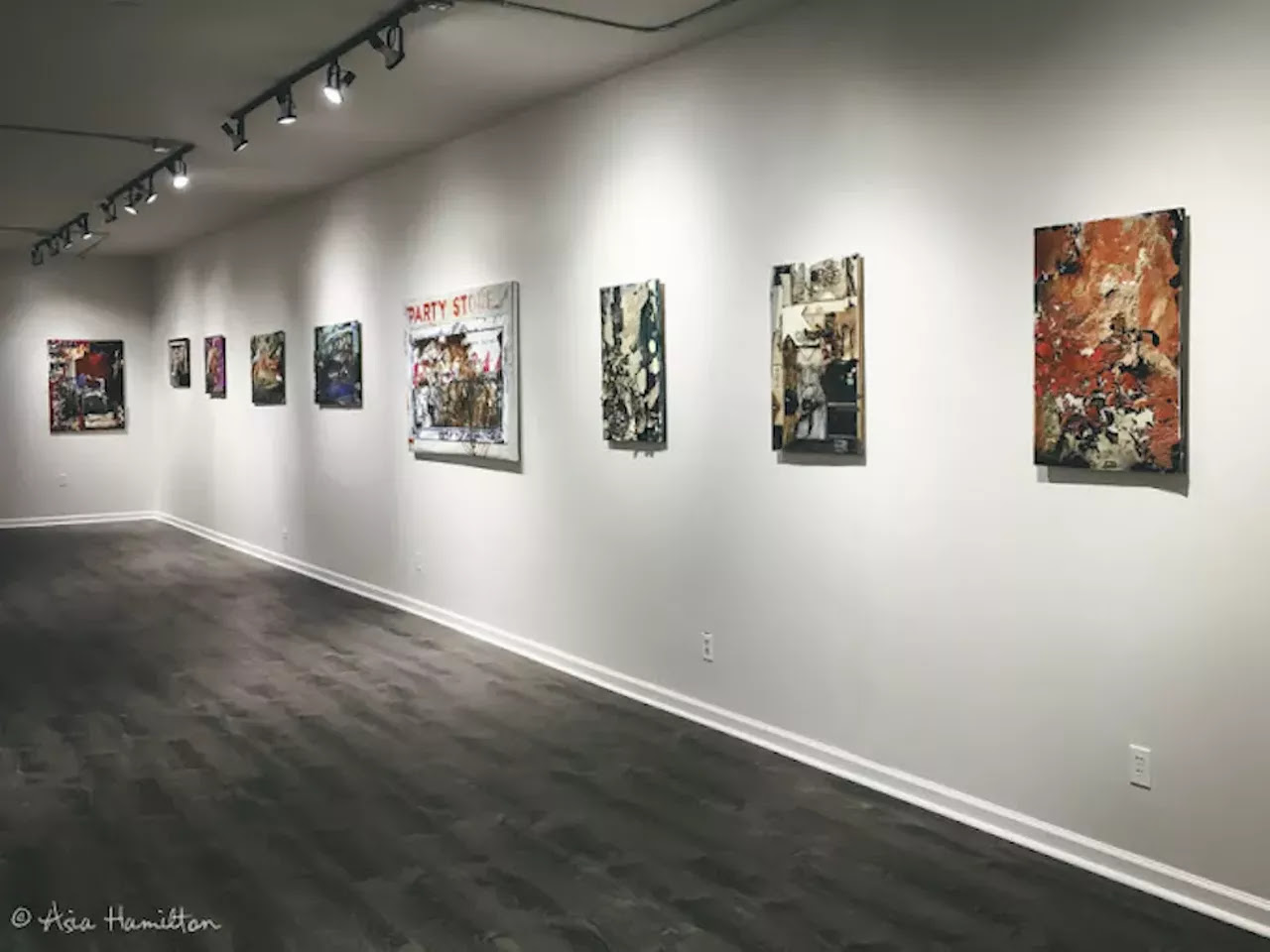 Google Maps
Norwest Gallery of Art
19556 Grand River Ave., Detroit; 313-293-7344; norwestgallery.com
Norwest Gallery of Art is a gem of Detroit's Grandmont Rosedale neighborhood. Helmed by curator and photographer Asia Hamilton, the gallery holds space for visual artists at all stages of their careers. Just down the road is Womxnhouse Detroit, Hamilton's childhood home-turned-yearly art installation featuring women artists of color.


Google Maps
The Carr Center
15 E. Kirby St., Detroit; thecarrcenter.org
Founded in 1991 as the Arts League of Michigan, The Carr Center is a cultural institution for African American artists across all mediums from visual art to music and dance.


National Conference of Artists Michigan/Facebook
National Conference of Artists Gallery
18100 Meyers Rd., # 392, Detroit; 313-342-1786; instagram.com/ncamichigan
This organization was founded in 1959 by and for Black artists, educators, students, collectors and supporters of the arts. Its Michigan chapter has a gallery located inside the Northwest Activity Center where it hosts visual art exhibits and virtual workshops.


Google Maps
Eric's I've Been Framed
16527 Livernois Ave., Detroit; 313-861-9263; ericsivebeenframed.com
Eric's has been a mainstay on Detroit's Black-owned business hub, the Livernois Avenue of Fashion, for over 20 years. Besides being a go-to for Detroit photographers and artists to get their work framed, it also has an in-store gallery and shop with prints, original paintings, coffee table art books, and more.


Google Maps
Jo's Gallery
19376 Livernois Ave., Detroit; 313-864-1401; josgalleryonline.com
Clearly, we couldn't make a list of Detroit's Black-owned galleries without the Avenue of Fashion being prominently featured, so here's yet another one from the historically Black district. Jo's Gallery is packed with abstract and figurative paintings, prints, jewelry, framed art, and beyond.


Design Studio 6 / Facebook
Design Studio 6
8626 W. McNichols Rd., Detroit; designstudio6detroit.com
This interior design studio, shop, and workspace is owned by April McGee, the daughter of beloved Detroit artist Charles McGee. It hosted McGee: Urban Synthesis during Black History Month to celebrate the decorated painter's legacy with memorabilia and artifacts from his collection along with work inspired by him.


Dabls Mbad African Bead Museum/Facebook
Dabls Mbad African Bead Museum
6559 Grand River Ave., Detroit; 313-898-3007; mbad.org
This is a Detroit classic. Whether you actually want to buy African beads for jewelry making or just peruse Olayami Dabls's impressive collection and outdoor sculpture garden, it's worth a trip. Dabls was named the Kresge Eminent Artist for 2022, which is pretty much a lifetime achievement award for Detroit artists.


Arts Extended Gallery/Facebook
Arts Extended
5359 Vancouver St., Detroit; 313-832-4534; facebook.com/ArtinDetroit
This grassroots organization has held space for Detroit's Black art professionals since 1952. The group was created as a monthly meetup after Black artists felt excluded from the city's art institutions, and also operates a gallery. It may be the longest continuously operating Black arts organization in the U.S.


Google Maps
Umoja Fine Arts Gallery
16250 Northland Dr., Suite 102, Southfield; 248-773-9008; umojafinearts.com
Umoja Fine Arts Gallery is tucked into Southfield's Crossroads complex. The vibe is modern Black art from acclaimed artists like Annie Lee, whose "Blue Monday" painting makes more sense the older we get. The gallery is a good spot for art collectors of all means as it offers prints and originals from $35 to upwards of $10,000.


Google Maps
Charles H. Wright Museum of African American History
315 E. Warren Ave., Detroit; 313-494-5800; thewright.org
OK, this is an obvious one, but still deserves a shoutout. Whether it's sculptures by Charles McGee, a Hubert Massey mural, exhibits on Black history, live theater, or the African World Festival, the Charles H. Wright does it all. It's considered one of the largest African American historical museums in the world.


Liberal Arts Gallery/Facebook
Liberal Arts Gallery
3361 Gratiot Ave., Detroit; 313-925-9578; liberalartsgallery.com
Spread across two floors with a second-level balcony, Liberal Arts Gallery is a unique space for visual and performance art alike.


Blackbird Gallery/Facebook
Blackbird Gallery
3011 W. Grand Blvd., Detroit; Suite 104; blackbird-gallery.com
This relatively new gallery is located inside the Fisher Building and emphasizes underrepresented artists.


Google Maps
N'Namdi Center for Contemporary Art
52 E. Forest Ave., Detroit; 313-831-8700; nnamdicenter.org
For over 20 years the N'Namdi Center has been spreading the love for abstract art while showcasing national and emerging artists.


Google Maps
Mac Galleries
18943 Livernois Ave., Detroit; 313-871-7690; macgalleries.com
This family-owned gallery has been in the community since 1991 highlighting both emerging and established artists from Detroit and beyond. It also offers custom framing services on, you guessed it, the Avenue of Fashion.


Google Maps
Nandi's Knowledge Cafe
71 Oakman Blvd., Highland Park, 313-865-1288
Nandi's is a meeting place for poets, musicians, artists, and all manner of Black creatives that may be one of Highland Park's best-kept secrets. Nandi's is really an African-centric bookstore and cafe but at night it transforms into an event space for weekly open mics and other gatherings. Plus it's covered wall-to-wall in African art and masks collected by the owner, affectionately known as Mama Nandi. If you don't know, now you know. You'll be greeted like family regardless.

https://www.metrotimes.com/detroit/20-black-owned-art-galleries-and-spaces-to-explore-in-detroit/Slideshow/32452190