https://www.metrotimes.com/news/detroit-to-get-its-first-huron-clinton-metropark-with-water-garden-along-riverfront-32073706
Detroit to get its first Huron-Clinton Metropark with water garden along riverfront
The Huron-Clinton Metroparks Water Garden will be one of four attractions at the 22-acre Ralph C. Wilson, Jr. Centennial Park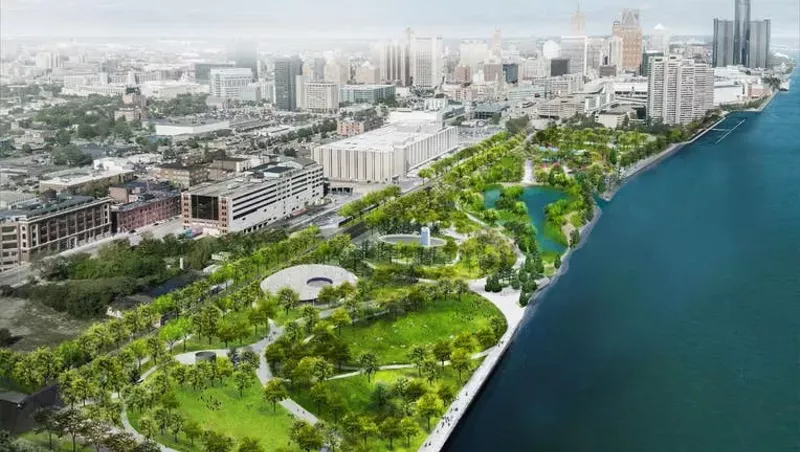 Huron-Clinton Metroparks is opening its first location in the city of Detroit with a 2.5-acre water garden along the Detroit River.
The Huron-Clinton Metroparks Water Garden will be one of four attractions at the 22-acre Ralph C. Wilson, Jr. Centennial Park, which is scheduled to open along the west riverfront in 2024. The water garden will feature winding walking paths, seating areas, educational signage, and open-air classrooms intended to engage visitors.
The project is part of a collaboration between the Detroit Riverfront Conservancy and Huron-Clinton Metroparks that dates back to 2015. The idea is to educate Detroiters on wildlife and the outdoors.
The collaboration led to Swim in the D, a program to help 500 young Detroiters learn to swim.
"The naming of the Water Garden is incredibly exciting for us," Amy McMillan, director of Huron-Clinton Metroparks, said in a statement Tuesday. "The Metroparks form a greenbelt of vibrant active and natural spaces around the metro Detroit region, but for decades there has been a gap in Metroparks presence within the city of Detroit. We are finally making progress towards closing that gap and establishing a physical presence that residents can engage with daily. We know we still have a lot of work to do, but we are grateful for this strong partnership that is helping us realize progress towards that goal."
Mark Wallace, president & CEO of the Detroit Riverfront Conservancy, said he's "thrilled" with the partnership.
"The partnership between the Detroit Riverfront Conservancy and Huron-Clinton Metroparks has already reached thousands of people in our region," Wallace said. "For more than two years, we have been introducing Detroiters to the Metroparks and connecting Metroparks visitors to the Detroit Riverfront. Those numbers will continue to grow when we open the Water Garden at Ralph Wilson Park in 2024."
Ralph C. Wilson, Jr. Centennial Park is expected to include 5.5 miles of revitalized riverfront. When completed, conservancy officials say it will dramatically transform the downtown riverfront.
Other attractions at the park include the Williams Davidson Sport House, which will feature two regulation basketball courts; the Delta Dental Play Garden, which will include an array of animal structures for children to climb; and the DTE Foundation Lawn that will be used for special events and programming.
Every year, Metroparks attracts about 7 million visitors to its 13 parks, with a combined 25,000 acres of space.
Coming soon: Metro Times Daily newsletter. We'll send you a handful of interesting Detroit stories every morning. Subscribe now to not miss a thing.

Follow us: Google News | NewsBreak | Reddit | Instagram | Facebook | Twitter