From Model D
https://www.modeldmedia.com/features/medicina-urbana-detroit-innovators.aspx 
Medicina Urbana enters second year of serving Southwest Detroit
When Dr. Mark Beard was in his early days of medical school, he became a faithful discipline of osteopathy, a branch of medicine that emphasizes a holistic approach to healing a person's illness. So when he opened Medicina Urbana in Southwest Detroit last year, Beard didn't want to be a "pill mill" rushing to prescribe drugs to alleviate his patients' pain. He's committed to transforming the way people think about their personal health and treatment.
Beard grew up outside of Chicago and went to Carleton College in Minnesota. Before medical school, he went to Spain for a year to teach English. When applying for medical schools, he was only interested in going to osteopathic schools because he was so captivated by the philosophy of the work. He completed his residency in Michigan and moved to Detroit in 2012.
"The body can heal itself if you give it the right conditions," he says. "I've been applying that to patient care and after a year of practice here."
Medicina Urbana is a small yet mighty clinic located at 5700 Vernor Highway in the heart of the Southwest Detroit neighborhood. Beard is a fully licensed physician. Medicina Urbana is an intimate operation; Beard and registered nurse Jackie Garcia run the clinic each day. They schedule appointments and walk-ins are welcome.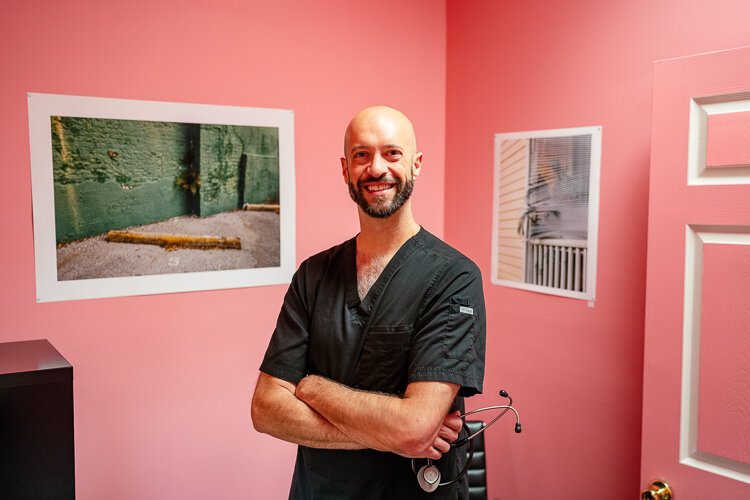 Dr. Mark Beard sees patients for fatigue, headaches, anxiety, back pain, and other common pain issues.
It's a primary care setting so Beard says everything and anything in terms of symptoms comes through the door. He sees patients for fatigue, headaches, anxiety, back pain, and other common pain issues. During consultations, Beard can also identify what could be exacerbating these problems that could be adjustable fixes whether that's getting more exercise or just drinking more water can have a huge impact on wellness.
The clinic offers a menu of healthcare services such as blood testing, sports physicals, and vaccines, and Beard performs various osteopathic manipulative techniques to address muscle and joint pain. During his initial consultations with patients, Beard probes the root causes of where their discomfort originates. He asks what are some of his patients' daily routines and habits that could be contributing to these problems. Beard illuminates to patients to the conclusion that the longstanding cure could be found in the reorientation of their lifestyle choices.
Medicina Urbana adds to the medical service options in the Southwest Detroit community. There are a few other healthcare providers in the area. Beard hopes his patient-oriented, holistic approach to health and wellness teaches patients to address problems in natural ways, when appropriate, instead of relying on prescriptions to alleviate symptoms. If patients exhibit symptoms that are very serious he will refer to them to see another physician. Beard is still very mindful and intentional about his practice to do no harm. He is against an approach to medical care that can prey on patient vulnerabilities.
"The local community has been abused by medical providers in the past and simply fed medications as opposed to working on helping them heal themselves," he said. "I believe in the power patients have to build autonomy over their own health."
The majority of Medicina Urbana's clients are Spanish speakers and skew toward an older demographic. Differences in language, studies have shown, can pose huge barriers to healthcare access.
The fact that Beard is bilingual and interacts with his patients in their native tongue is critical to encourage non-English speakers to seek care in the first place and be able to communicate their pain and receive better health assessments as a result. Medicina Urbana also prioritizes making appointments affordable to clients.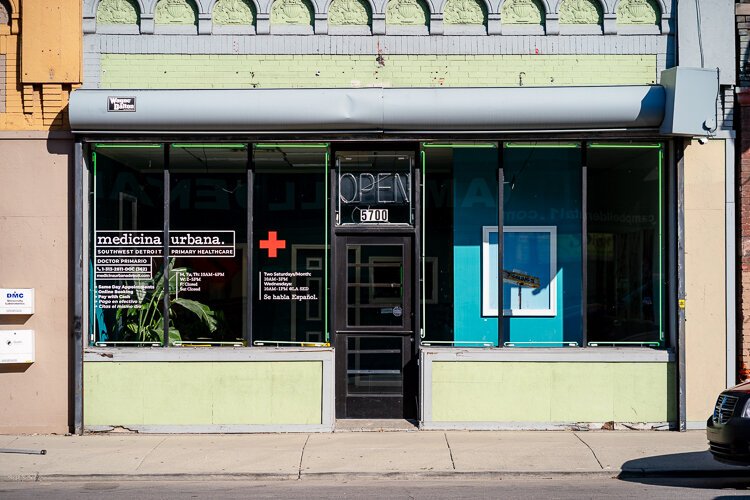 Medicina Urbana is a small yet mighty clinic located at 5700 Vernor Highway in the heart of the Southwest Detroit neighborhood.
Medicina Urbana is located on a vibrant commercial corridor of Southwest, Vernor Highway, and Beard says many of his patients can walk to the clinic from their homes instead of having to drive long distances or rely on public transportation.
Many of Beard's patients are also seniors and commuting for them can be a challenge. Beard's osteopathic care is also mobile: he goes to the La Sed Youth and Senior Center a few blocks down the road on Vernor Highway every other Wednesday afternoon to provide the seniors free blood pressure screenings and checks their sugar levels. He sees about 10 regular patients each month at La Sed.
One of Beard's senior patients is Maria Munoz, 77. She's been seeing Beard for over a year. She's originally from Mexico and moved to the United States to be with her family. She's been living in Southwest Detroit for over 18 years. Munoz can enjoy a fitness class and regular checkups with Beard in the same day without the extra hassle of having to commute to the clinic. She said she feels better and more comfortable because of Beard.
"He's helped me a lot. I've improved," she says. "My knees hurt a lot and now they don't hurt any longer. My shoulder pain, my arm pain, and my blood pressure have improved thanks to Dr. Beard."
As Medicina Urbana enters its second year of providing primary care the osteopathic way in Southwest Detroit, Beard is hoping to expand his staff and is searching for a receptionist. He's working with
Featherstone Moments
to amplify the clinic's social media presence, push the more bilingual promotion of the clinic's services and share community stories. Beard would also like to incorporate more herbal medicine and work with a pharmacist to develop comprehensive plans for patients. Overall, Beard is optimistic for the future of Medicina Urbana and inspired to see his patients continue to progress in transforming their care.
"I feel the patients get it and are getting better," Beard says. "They appreciate the care that's being taken with them and feel empowered by this sense that their body is powerful."
Photos by Nick Hagen.
The series is supported by the New Economy Initiative, a project of the Community Foundation for Southeast Michigan that's working to create an inclusive, innovative regional culture.