The Marche du Nain Rouge returns Sunday, March 20th, 2022!
 
MARCHE DU NAIN ROUGE
 
The Nain Rouge has been a harbinger of doom since the time of Detroit's founding. Each year we hold a parade in the Cass Corridor to trick the Nain with our terrible French ... and costumes.
 
https://www.marchedunainrouge.com/

​

Join the fun

At the Marche, you are the parade.
 
What is Marche du Nain Rouge?
 
Every March around the Equinox, thousands of revelers gather for a parade through Midtown Detroit to celebrate their city.

They wear grand costumes, build spectacular floats, roll out marching bands and krewes representing all corners of the city.

Will the Nain Rouge — Detroit's legendary harbinger of doom — appear at the Marche du Nain Rouge, armed with witty barbs and a half-baked scheme to take Detroiters down a notch? Come to the parade and find out!
​
Marche du Nain Rouge is a nonprofit run primarily by volunteers.  
 
BRING THE KREWE
 
At Mardi Gras, a krewe is any group that joins together to throw a ball or parade. At the Marche, our krewes build human-powered floats, perform music, coordinate themed costumes and represent their Detroit neighborhoods together. Register your group and be part of the parade below.
 
https://docs.google.com/forms/d/e/1FAIpQLSeMDg1z0PWvcdemTrkwX3-9YdJvLPOz_3ngizQsEe80MiRlYQ/viewform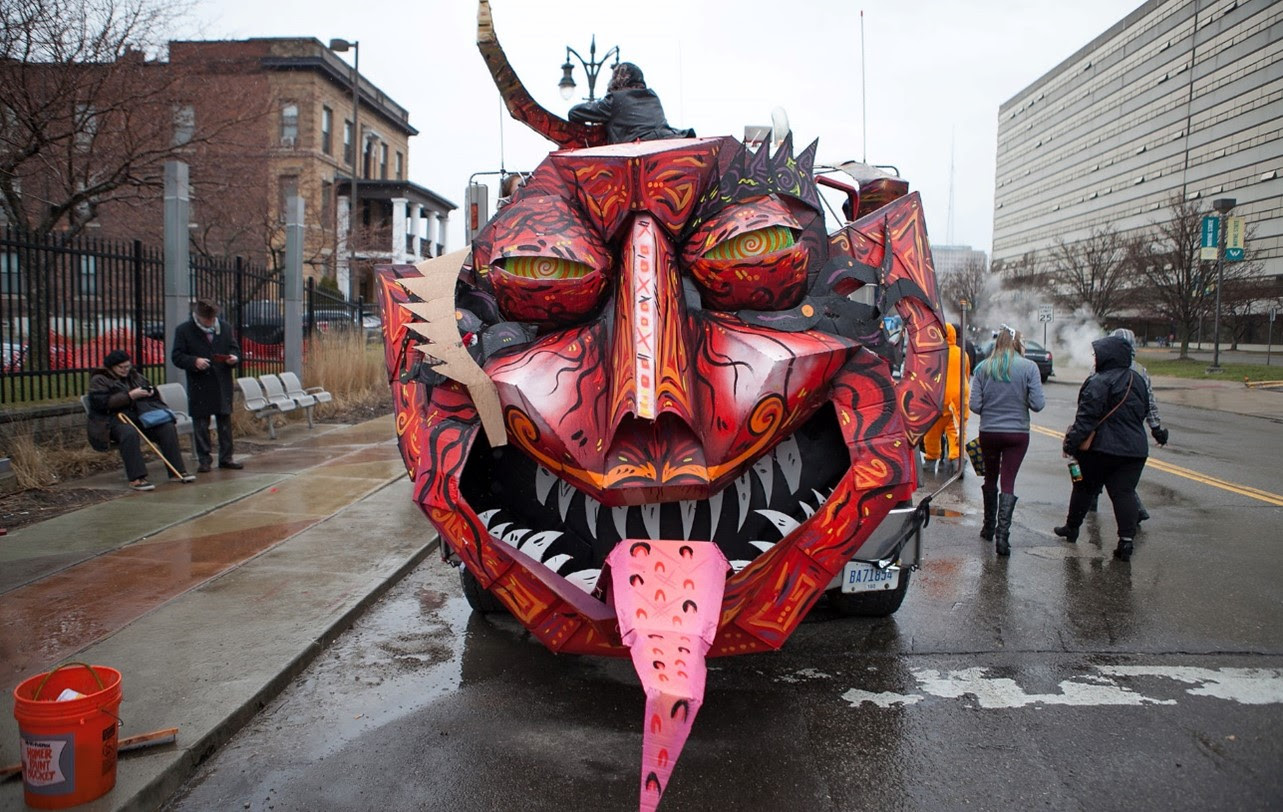 TAUNT THE NAIN
 
Have something to say to the Nain? Here's your chance to add to the witty barbs we sling at him at the parade and on social media. Share your taunt with us below.
https://docs.google.com/forms/d/e/1FAIpQLSevz57XJcCFUXXHsD2gEyFziuMOEqHZayZkq6zH10NFDNnYmQ/viewform
 
2022 Fête du Nain Participants -
Join the participating businesses for Nain-themed specials throughout the week leading up to March 20th!
​TBD. 
 



MAKE IT HAPPEN
GIVE A LITTLE (or a lot)

Help us keep the parade marche-ing through the Detroit. Your financial commitment to the Marche assists us in making this event one of Detroit's best new-ish traditions where we can celebrate the city's funky history and bright future together. 
​
Your donation is tax deductible!

SPONSOR THE PARADE
We couldn't do it without our generous partners and sponsors.​
If you or your business would like to be a 2022 sponsor, contact us via email 

This email address is being protected from spambots. You need JavaScript enabled to view it.

.
This email address is being protected from spambots. You need JavaScript enabled to view it.

COVID-19 STATEMENT AND PROTOCOLS
The Marche du Nain Rouge wants everyone who attends this year's parade to have fun, as safely as possible, especially in light of the ongoing Covid-19 Pandemic. To support that goal, event organizers urge everyone to take precaution (get boosted now if you haven't!) and read and follow our Covid protocols to ensure a good time is had by all.
 
Event Volunteers, Performers, and Vendors 
All event volunteers and performers are required to wear a mask when working indoors during the event, especially in crowded locations where social distancing is not possible.
 
Masonic Afterparty 
As in past years, the official after party will be held immediately following the closing ceremony at the Masonic Temple. Masks are recommended. 
 
We will not be requiring proof of vaccination to enter the Masonic Temple, however we will be providing hand sanitizing stations that will include complimentary paper masks for those who choose to use one. Additional protocols will be adhered to with the intent of providing a safe environment for our performers, staff and guests, including:
Flyers and announcements encouraging guests, staff and performers to wear a mask/face covering while attending the indoor portion of the event;
Designated social distance area for guests to keep a minimum of (6) six-foot distance;
Limited vendor setups with (6) six-foot distance between vendors. Vendors are required to wear a mask/face covering while vending.
Cass Park Gathering Location 
As an outdoor alternative to the Masonic Temple, organizers have been granted use of Cass Park for attendees to gather informally, around designated Detroit Fire Department approved fire barrels, which will be monitored by event organizers. The barrels will be maintained during the Masonic after party, and will be extinguished before dusk. There will be no formal program, and no additional food/drink/merchandise sales allowed.
 
Other Locations
All other venues are responsible for their own protocols. Please be mindful, patient, and kind to your fellow folk; make sure to follow the house rules of local establishments along the route. And please stay home if you're feeling ill or have Covid symptoms. 
General Inquires
This email address is being protected from spambots. You need JavaScript enabled to view it.