Metrotimes
https://www.metrotimes.com/detroit/detroits-st-patricks-day-parade-is-back-but-its-not-just-about-booze-in-corktown/Content?oid=29507553&utm_source=feature&utm_medium=home&utm_campaign=hpfeatures&utm_content=HomeTopFeature
Detroit's St. Patrick's Day parade is back — but it's not just about booze in Corktown 
By
Lee DeVito
@leedevito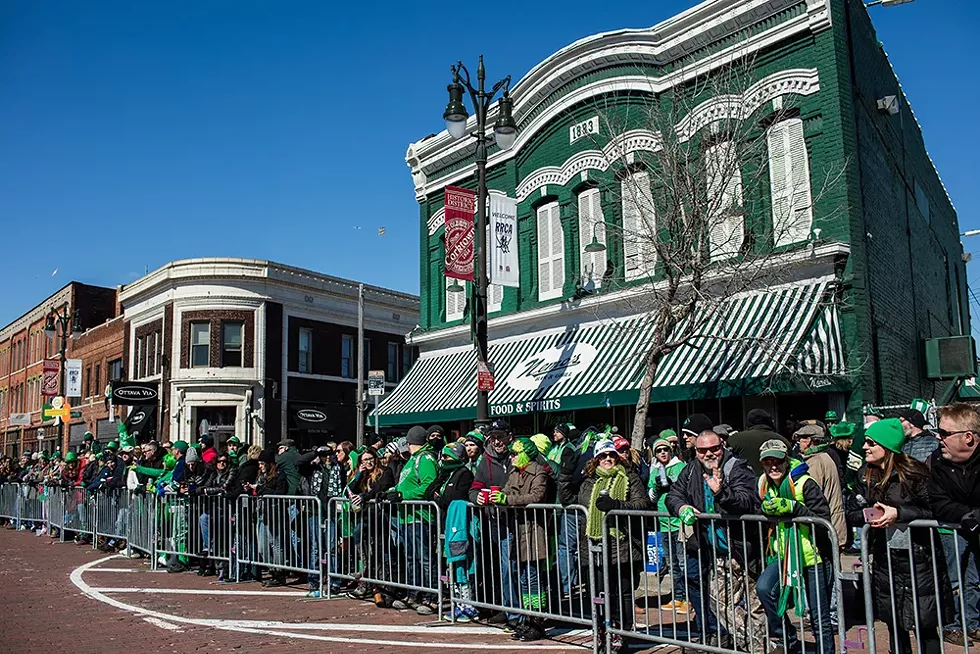 Michelle Gerard / Stock Detroit
This year marks the return of the St. Patrick's Day parade in Detroit for the first time since 2019.
It's no exaggeration to say that St. Patrick's Day is a really big deal for Pauly Brady. As frontman of Detroit-based Irish rock band Stone Clover, he normally plays a ton of gigs in March. His roots in Detroit's Irish community run deep — his grandparents built downtown's Old Shillelagh bar, and he grew up helping out there on St. Patrick's Day, taking a shuttle to Corktown for the annual parade and festivities along Michigan Avenue.
But in 2020, the news that the COVID-19 pandemic had arrived in Michigan was felt the day before St. Patrick's Day, when Governor Gretchen Whitmer ordered all restaurants and bars to close by 3 p.m. — effectively canceling St. Patrick's Day.
"That was like telling the kid Christmas was canceled on Christmas Eve," Brady recalls. "It's like our Super Bowl."
He adds, "To just lose that all of a sudden, it's beyond words." Days earlier, the band was driving to Grand Rapids for a gig at Founders Brewing Co. The show was canceled on their way there.
The true scope of the pandemic became clearer in the coming days, as the limited shutdowns turned into a full-scale months-long stay-at-home order. Brady also worked as a stagehand at the Masonic Temple, and that work dried up with the pause on live music.
When asked how he survived, Brady deadpans: "Ramen noodles."
"I lost everything all at once. It was pretty rough," Brady says. "But here we are, hoping to get it all going again."
With the virus appearing to ebb, this year marks the return of the St. Patrick's Day parade in Detroit for the first time since 2019. The parade is scheduled for 1 p.m. on Sunday, March 13.
Brady says he was completely understanding of the shutdowns. In December 2019, he was bedridden for weeks with what he has since come to believe was an early case of COVID-19, with symptoms including fevers, fatigue, and respiratory problems. Since there were no tests available at that time, Brady never had it confirmed. But this summer, a study from the National Institute of Health found evidence of possible COVID-19 cases in the U.S. as early as December, weeks before the first documented case.
If true, that would make Brady's among the very first COVID-19 cases in the country.
"All the doctors I've spoken to said, 'If that wasn't COVID, I don't know what the hell that was," he says. "Because I'm a healthy and active 47-year-old male who doesn't smoke."
The illness left Brady with lingering symptoms, and he now uses an inhaler.
"I was the sickest I've ever been in my life," he says. "I lost 10 pounds in a week because I couldn't get out of bed. I was waking up in the middle of the night gasping for air, over and over again."
Since he believes he survived COVID-19, Brady says he supported the shutdowns, even though it cost him his income.
"After what I experienced firsthand, I was 100% like, I don't want anybody else to get this," he says. "And if my industry or my profession has to change or move because of it, I'd rather have that than see innocent people suffer."
He adds, "I understand why people were upset about the lockdown, but I don't understand why they would want other people to experience it. It's usually people who didn't have a close tie to it. It was far away from them. But it was so close to me. I had friends who lost their parents."
He now sees a vocal coach to learn how to breathe and sing.
"I'm not giving up," he says. "I'm not going to let it stop me."
During the two years of downtime, his band stayed busy, performing as part of an Arts, Beats & Eats drive-in concert series to help raise money for other musicians in need. Brady says he also wrote and recorded new music at Roseville's Tuxedo Avenue Recording studios, and a plan to quickly record an EP ballooned into a larger, more ambitious project.
"I was laying in bed for months and months, and I kept a guitar next to me," he says. "I realized that all the songs that I'd had partially written and collected, and even some of the last album, were part of this giant story. And so I've written a huge concept album about a young man from Ireland, who winds up in World War I and immigrates to America and falls in love and ends up in Detroit."
The first EP is called Thieves, a part of a larger conceptual series Brady says will be called Death to the Life of Riley. "There's an old saying, 'living the life of Riley,' which means 'living the good life,'" he explains. 'It's an old Isles thing."
Brady says he's welcoming the return of the St. Patrick's Day parade with a mix of excitement and nervousness.
"We're opening up, which is great," he says. "At the same time, you've got that caution and that trepidation where you're just like, 'Let's hope this works.'"
This year, he's working on a new idea for his band. He got a flatbed trailer from the Detroit Parade Co., which he plans to have towed by the Old Shillelagh's shuttle bus down the parade route, with his band performing on top. After the parade, Stone Clover will head to PJ's Lager House to perform, a decade-long tradition for the band. On St. Patrick's Day, Stone Clover will play another show at the Magic Stick.
Brady says since St. Patrick's Day was busy at his family's bar when he was growing up, the St. Patrick's Day parade, held on Sunday before the holiday, was his time to celebrate his heritage and his community.
"We used to all ride the Old Shillelagh bus all the way down to the Gaelic League, and then work our way back, stopping at every bar on the way back for a pint, and see how far we could get before the bus had to come pick us up," he says. "But it wasn't just about drinking. It was the adventure. It was the camaraderie."
He adds, "The parade is the family-oriented community day. We get to get out there and see all of our friends, we see all our family. We take pride in our culture and in our community. I love it. It's my favorite day. I love parade day. Mind you, I love St. Paddy's Day, but parade day is just the day where we all get to have our fun."