https://www.modeldmedia.com/features/resillient-neighborhoods-LOS-HQ-southwest-detroit-youth-center.aspx
Resilient Neighborhoods: This new youth center just opened its doors in SW Detroit
In the Springwells area of Southwest Detroit, there's not a lot for young people to do after school but go home. The neighborhood, which spans about 1.3 square miles, doesn't really get lively until after 7 PM – when its adult constituents are coming home from work. 
Andy Morataya, 18, is a Southwest Detroit native who has experienced these feelings first-hand.
"A lot of [Southwest Detroit] youth feel like they don't have a place to hang out. Especially those who struggle with transportation or have issues at home," he says. "However, they can't afford to go anywhere nice or go anywhere public because of safety concerns." 
Urban Neighborhood Initiatives
 (UNI), a Southwest Detroit nonprofit that serves Springwells, is addressing this situation with its latest development: a youth-led center called the Leaders of Southwest Headquarters (LOS HQ). 
The organization held a soft opening for LOS HQ on Oct. 15. The new center was created to fill a gap in youth programming and space in the Southwest Detroit community. It's a need that has also been recognized by another Southwest Detroit nonprofit, Congress of Communities, which is in the process of 
opening its own youth-driven community center
 in the area.
Lisa Marie Rodriguez, Community Engagement Coordinator for UNI is particularly excited about LOS HQ because she feels it will help the area to thrive. "Like every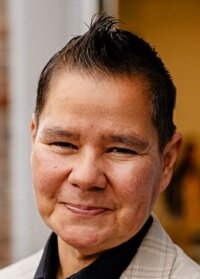 Lisa Marie Gomez
 community, we still have issues: poverty, illicit activity, abandoned houses," she says. "But this space will be an anchor. An anchor for young people, an anchor for residents to come and get activated with the retail space, seeing what their children are doing, what other children are doing. A space on the corner like this is going to give life to the adjacent area." 
LOS HQ has been in development for nearly five years. The opportunity to establish the youth center came after the building of the Southwest Detroit Justice Center, a community court, was completed in a building at 2026 Lawndale Street at that time. Because half the building was still empty it presented UNI with an opportunity.
The nonprofit had many ideas for the building's other side, including a literacy center. But rather than just act on those notions, UNI's executive director Christine Bell and her team chose to take a step back. 
"We decided that we really wanted to engage young people in the process, so we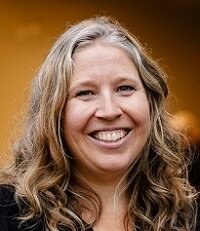 Christine Bell
 asked the Detroit Collaborative Design Center (DCDC) to train our young people in design. And our young people delivered those workshops to their peers," says Bell.
To help decide how to use the space effectively, UNI brought in participants from their youth advisory board and the wider community to learn what they wanted out of the facility. Initially, they had ideas like a mezzanine with slides, games, and televisions, but after participating in the design workshops, these design advisors narrowed their options down to what they saw as realistic. They decided that LOS HQ would be home of a bookstore, arcade, art gallery, and bike shop, all of which will be youth-operated. The building space, with its open doors and colorful murals on the walls are meant to welcome youth in. It also features metal railings built by
 Diseños Ornamental Iron
, a locally owned Southwest Detroit metalworking business.    
With the initial work on LOS HQ completed, Bell is excited to move on to the next phase. That involves youth participating in a design workshop where they will learn how to not only design, but build the LOS HQ's furniture. As an organization, Bell feels it's important for UNI to engage youth in all aspects of the decision-making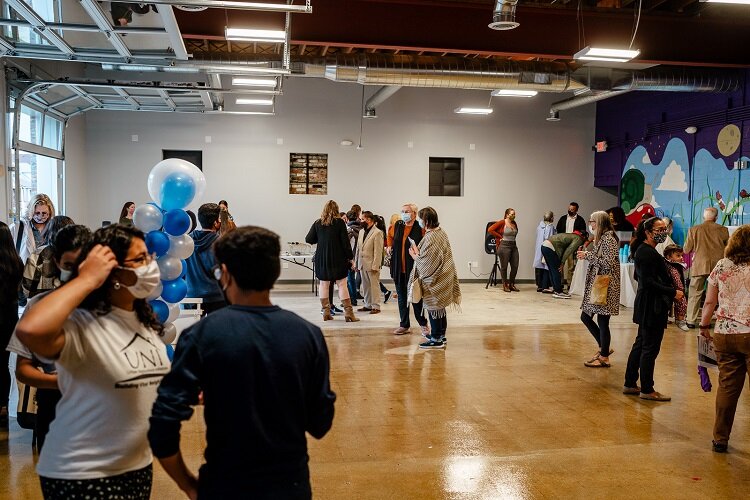 LOS HQ interior
 process.
"We have a deep belief in young people and we believe that they're incredibly important to the future of the neighborhood, and we believe that they can lead. And that they should lead," she says. 
In total, about 40 young people participated in the design process of LOS HQ, including Morataya, who formerly served as a member of UNI's youth advisory board and currently works with the nonprofit as a data entry specialist.  
 "By creating this space, we're inviting those youth to come in, chat, make friends, and just be safe while socializing, because we're social people."
With phase one complete, and nearly $1.5 million raised for the project, Bell views LOS HQ's recent soft opening as a moment for the nonprofit, the youth involved,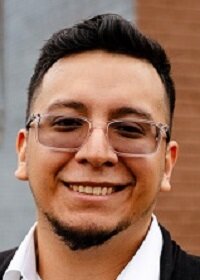 Edgar Gomez
 and the broader community "to pause, and celebrate." The UNI director hopes that all phases of the project will be complete by the end of 2022. 
Edgar Gomez, 30, a former graduate of UNI's youth programming, who until recently served as UNI's full-time youth leadership coordinator is also celebrating the opening of the youth center.
"Growing up in this community and seeing this kind of space is beautiful," he says. "I've seen other organizations in other cities have spaces like this, but we never had one in Southwest Detroit."
All photos by Nick Hagen.Resilient Neighborhoods is a reporting and engagement series that examines how Detroit residents and community development organizations are working together to strengthen local neighborhoods. It's made possible with funding from the Kresge Foundation.