From Model D
https://www.modeldmedia.com/features/resilient-neighborhoods-nonprofits-gentrification.aspx
Resilient Neighborhoods: Detroit nonprofits respond to the gentrification question
Taurean Thomas, 37, has called Detroit's historic Corktown neighborhood home for most of his life. Walking around the streets and sidewalks these days, though, a lot has changed from what he remembers from 20 years ago.
"It used to be five days a week that downtown Corktown area was dead, super quiet, nothing going on. Recently we've had COVID, but I mean Corktown is buzzing," he says.
From the emergence of restaurants and bars like Slows Bar BQ and The Sugar House to the redevelopment of the former Tiger Stadium grounds into the Corner Ballpark by the Detroit Police Athletic League, Corktown has certainly experienced some changes.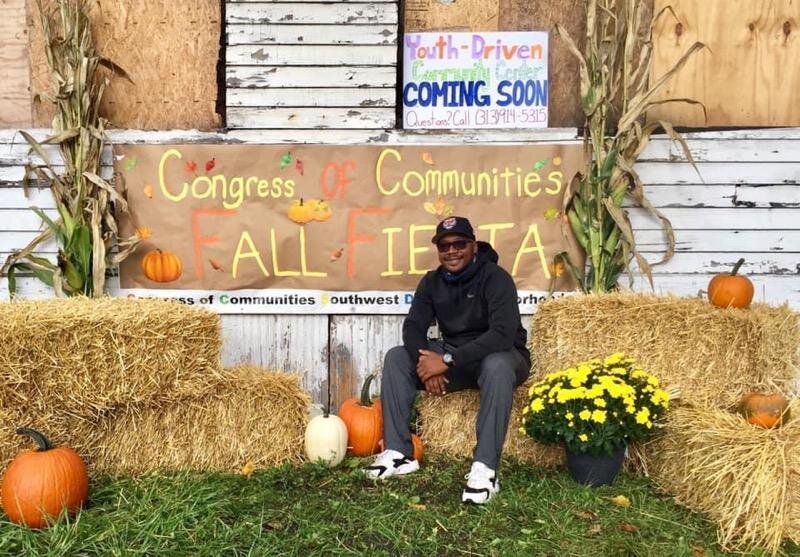 Taurean Thomas attends a Congress of Communities event in Southwest Detroit.
Perhaps the most dramatic shakeup came two years ago when Ford Motor Company announced plans to transform the long derelict Michigan Central train station (and some of the surrounding area) into a campus for autonomous vehicle and mobility research. Despite delays connected to the pandemic, the auto supplier is still committed to completing construction by 2022.
Thomas, now a professional consultant, has memories of playing in the abandoned train station as a kid, but he's thankful that the building — for years a symbol of the city's decay — is finally being fixed up, bringing in more businesses and attention to the area.
That said, the 37-year-old still has concerns about where Corktown could be headed. What was once a more solidly working-class neighborhood has seen an influx of people from more affluent backgrounds — it's not unusual these days to see people dressed in business suits walking past people in work coveralls on Michigan Ave.
Housing and land costs have also skyrocketed. According to a 2019 
Detroit News
 article, residential real estate prices in the Corktown area 
jumped 14
 percent from March 2018 to February of last year, a development more than likely connected to Ford's investment in the area.
For Thomas, the most pressing concern, however, is what will happen to the residents of Clement Kern Gardens, the Section 8 subsidized apartment complex he grew up in and where his mother still lives.
Located in Historic Corktown on Bagley Street between Trumbull Avenue and Rosa Parks Boulevard, the facility sits on a roughly 7-acre property and is made up of 87 rental units with between two and four bedrooms per unit. The residents who live there aren't well off financially, and due to HUD subsidies currently pay no more than 30 percent of their income for rent.
According to Thomas, Clement Kern Gardens is the only place left for poorer people to live in the area. And over time it's become isolated from the surrounding Corktown community. Right now, residents are concerned about their prospects for staying there. The owners of the complex, American Community Developers, Inc. (ACD), have announced plans to renovate Clement Kern Gardens, which will involve temporarily relocating current residents within Corktown or elsewhere on the complex site during reconstruction. Though, apparently they'll have an option to return to the site when it's completed with rents that are reflective of their income.
The redevelopment of Clement Kern Gardens is connected to the City of Detroit's larger vision for Greater Corktown and a program called the Choice Neighborhood Initiative (CNI). As a HUD-assisted site, the apartment complex plays a central part in a grant application to secure up to $30 million in federal CNI funding. According to a 
city RFQ planning document
,  In order to qualify for that money, the city must "replace distressed public and assisted housing with high-quality mixed-income housing that is well-managed and responsive to the needs of the surrounding neighborhood." If the project is approved, money from the grant would be directed towards the development of affordable housing options for low- and moderate-income households throughout Corktown, resident services, and neighborhood improvements.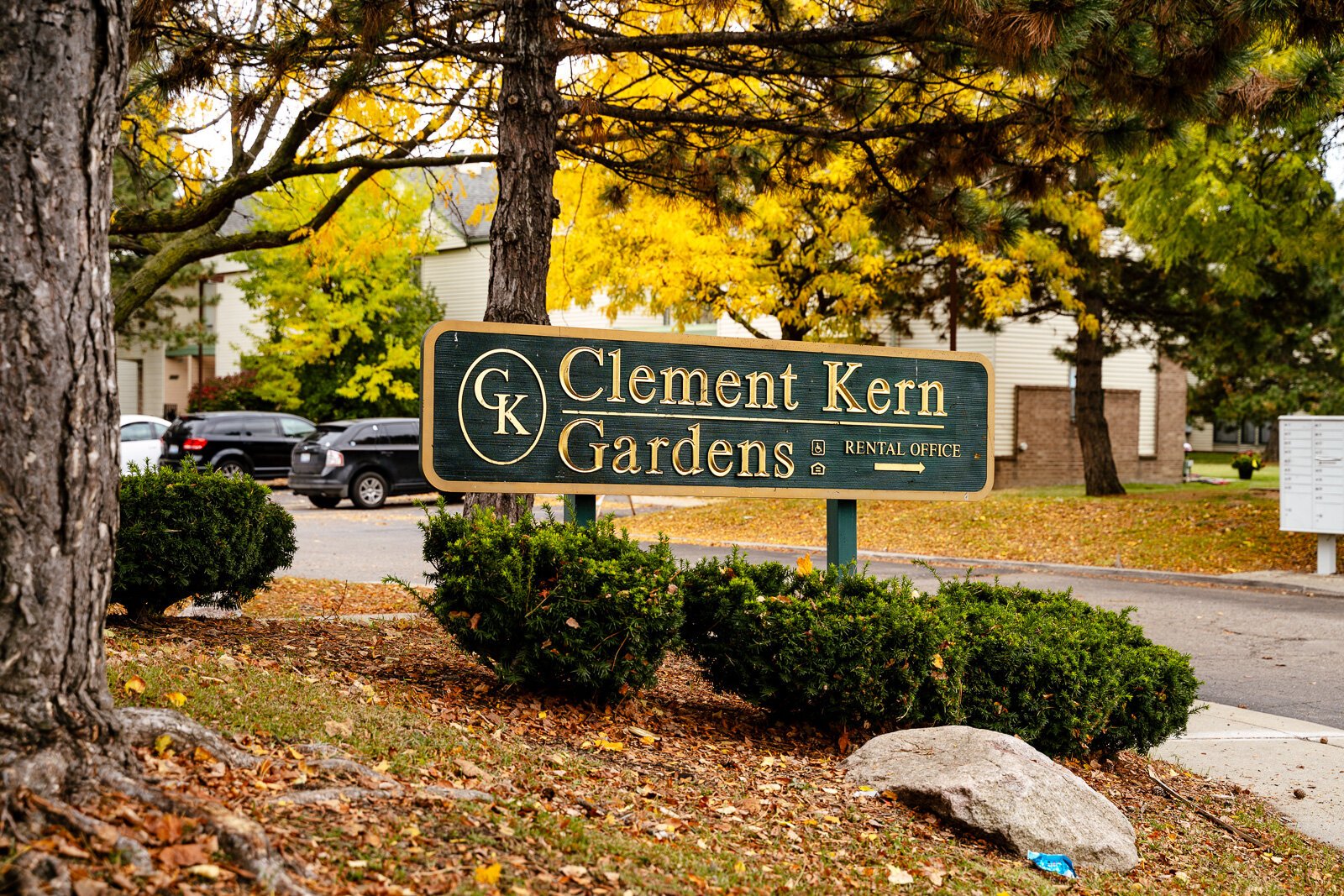 A sign advertises the Clement Kern Gardens apartment complex in Corktown.
According to Deputy Director of Detroit's Housing and Revitalization Department Julie Schneider,  the City has been engaging residents of Clement Kern Garden since last year and that the CNI plan is based on their input. She also says the City is committed to ensuring that development be conducted with the needs of residents placed first, while also working towards maintaining and increasing the long-term affordability of housing on the site. 
"If a resident relocates initially outside of Clement Kern Gardens, they will have the right to return," she says. "Relocation costs will be covered for households throughout the project. Rents will continue to be based on a household's income in any location they choose. Residents of Clement Kern Gardens will be able to live in modern, quality housing with all of the amenities of any new market rate development in the area."
Mike Essian, Vice President of ACD, says his company has been holding regular meetings to update residents about what's going on there and is very concerned about their welfare 
"Our goal with any redevelopment program is to preserve the housing that's there," he says. "Regardless of any plans that are approved, their rent will still be based on 30 percent of their income. As the neighborhood improves, I think it's important things are done to protect residents who currently live there."
ACD has no plans to sell the property and would be the redeveloper of the site. Redevelopment is not expected to begin until early 2023. The Duggan administration is slated to present its plans on the project to Detroit City Council this week.
From where Thomas is standing, though, communication about the project hasn't been very clear and that's made him nervous.
"It might turn out well for the owners and the city, but it might not turn out so well for the tenants in this area," says Thomas. "I'm worried about what's going to happen with my mother's home. Where is she going to be relocated to? How is that going to work?"
Engaging longtime residents
While the changes occurring in Corktown are hard to miss, they're not happening in isolation. Even though Detroit's overall population is still declining (as it has for decades), pockets of the city are experiencing an influx of new people and investment. 
While there have been some disagreements over whether what's happening in these areas 
qualifies as gentrification
, there is no doubt development is taking place and having an impact on surrounding neighborhoods. At times, there has been pushback about what's happening and demands that 
new development be equitable
 and respectful of those who live near it. 
Detroit community development organizations have definitely been part of this story, with many of them working to advance visions of development that address the concerns and needs of residents.
In his capacity as a consultant, Thomas has been working with one of these groups, Congress of Communities, to raise awareness about what's happening in Corktown, in part by collaborating on a documentary to educate the public about Corktown's history and culture.
The nonprofit's efforts on this front aren't limited to just the Corktown area, though. As its name suggests, Congress of Communities actually operates in several different Detroit neighborhoods — Hubbard Farms, Hubbard Richard, Mexicantown, Corktown and North Corktown.
Although the nonprofit 
wears a lot of different hats
, it's not shy about bringing up the G-word. In fact, anti-gentrification work is a core part of its mission.
With an office located in Southwest Detroit, the organization is well aware that new investment and new residents aren't just putting down roots in Corktown and North Corktown.
"Development is coming this way. We've got new Detroiters all over," says executive director Maria Salinas. "My role is to make sure we're incorporating resident voice into development — and resident experience, perception, and values. And there is a lot of that not happening."
When talking about gentrification, Salinas makes it clear her organization's focus isn't on color, but rather on preserving the cultures of the neighborhoods it works with and making sure residents have a seat at the table.
In 2013, in response to anti-gentrification graffiti that started popping up in Southwest Detroit, Congress of Communities organized a "Let's Talk" community conversation on gentrification at St. Anne's Church. Over 200 people showed up for the discussion, which was hosted by the Michigan Roundtable for Diversity and Inclusion and aimed at getting local residents, artists, and business owners to speak honestly with one another.
"It opened up a lot of dialogue, so we created a task force and we're still doing that work," Salinas says.
The organization has also played a direct role in bringing together residents with developers and other stakeholders. For example, it helped facilitate community involvement in a  participatory budgeting program sponsored by the City of Detroit and Invest Detroit that allowed the Hubbard Farms neighborhood to choose how to spend $250,000 in Strategic Neighborhood funding; residents ultimately decided to use the money to enhance nearby Clark Park.
Congress of Communities also works with local nonprofits like Southwest Solutions to survey community members about new development projects. Lately, it's been working with the Southwest Detroit Business Association (SBDA) on a 53-unit mixed-income and mixed-use project on West Vernor Highway near Clark Park called La Joya Gardens. 
While that's certainly a handful for any organization, as the director of Congress of Communities, Salinas often still wonders if it's enough.
"What I worry about is: what if we don't do our due diligence helping residents that are in poverty?" says Salinas. "I worry about displacement, because I've already seen it. What we do is just a small piece, but we need more!"